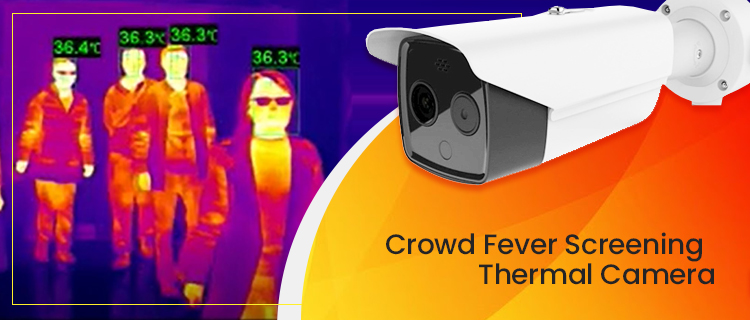 Crowd Fever Screening Thermal Camera
Crowd Fever Screening Thermal Camera is a very effective device to detect the temperature of anyone in a crowded place. As every object emits a certain amount of infrared in the environment, especially the living things, and the human body always maintain a certain temperature unless we are sick or have fever of some sort. As fever is one of the most common symptom of the current pandemic disease, so if we detect the people having fever we can screen them out for further testing or at least we can prevent them entering into the crowded places.
Introduction to Crowd Fever Screening Camera
Our Crowd Fever Screening Thermal Camera is the latest addition to our efforts to help the Dubai and UAE communities to stand against the spread. The Crowd Fever Screening Camera detects temperature in real-time and is capable of identifying people with fever even if they are among a crowd. This ability makes it distinguished from the other ordinary screening and fever detection tools and it could also save a lot of time and long queues at the entrances which can also cause more spread of the disease.
Crowd Fever Screening Camera with Optical Imaging
Crowd Fever Screening Thermal Cameras are not only capable of providing thermal imaging but also a complete colored picture as any other ordinary optical camera does. The temperature detection is highly accurate and reliable. There is a sound alarm which automatically triggers whenever a person with fever has been detected. The temperature detection covers a wide range along with built-in fusion view function, which enables overlaying the optical and thermal imaging for a clear and precise detection of the person with fever.
Features and Specifications
Here is a list of technical features and Specifications:
High Resolution Thermal Channel, Higher Sensitivity of the Sensor
Wider Temperature ranges, high temperature accuracy +/-0.5%
Built-in Temperature Alarm Function
3D-DNR Image Enhancements
Audio Alarm (Auto and Configurable)
IR Cut Filter with in-built auto switch (Day & Night)
Advance Fusion View, overplayed Thermal Imaging and Optical Imaging Functionality automatically combine the optical and thermal image PIP
Auto-adjustable IR Intensity and Angle
H265, H264 and MJPEG Image Compression
IPv4, IPv6, HTTPS, UPnP, FTP, PPPoE and more Protocols Compatibility
User Authentication, MAC Address Binding, Encryption, IEEE 802.1x IP Filtering and Access Control
2 Channel Inputs, 2 Channel Relay Outputs, SD Recording, Smart Capture and more
Built-in Micro SD Memory Card Slot, Support Up to 128GB
Web based user interface
12 Volt DC Two-core Terminal Block, PoE 802.3af – Class 3, 8 Watts Maximum
IP66, TVS 6000V Lightning, Voltage Surge and Voltage Transient Protections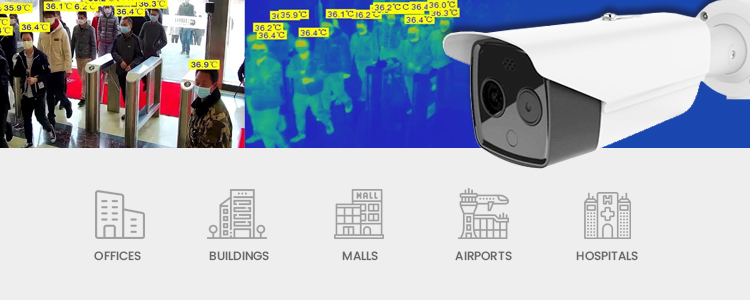 Crowd Fever Screening Camera Implementations
Such cameras can be installed at the entrance of any building, office, mall, airports, hospitals, and any place where large crowd is expected. The main advantage of the camera is that it doesn't require the people to come in a concentrated queue rather it can scan everyone in the view in real-time with very high accuracy. The Crowd Fever Screening Thermal Camera can detect elevated temperature and fever and it can automatically trigger an alarm to notify the staff. The thermal image and optical image fusion function help identifying the person with higher body temperature among the seemingly large crowds.
Crowd Fever Screening Camera Software Compatibility
Our Crowd Fever Screening Thermal Camera can detect the temperature in real-time so no congestion happens which often also cause physical contact and can result in more spread. The powerful firmware is based on intelligent engine to prevent false alarms which could be triggered by any other thing in the scene. The flexibility of the web-based browser and open-API allows the users to customize the software easily.
If you want to consult or if you have an enquiry, please feel free to get in touch with us at our Contact Us