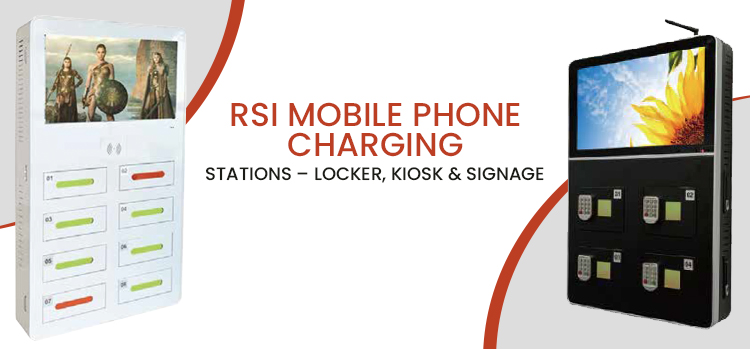 RSI Mobile Phone Charging Stations – Locker, Kiosk and Signage
RSI Concepts is always one step ahead of the competition by introducing innovative products and services in the market. Our market span is not limited to Dubai, Abu Dhabi, Ras Al Khaimah or other emirates of the UAE but all accross the GCC. We are happy to announce that we have launched a new Mobile Charging Kiosk with digital locking system. The kiosk is equipped with a very advance digital locking mechanism that can be configured with a PIN code. The mobile charging kiosk is equipped with the Lightening, C-Type, and Micro USB charging Pins. Those are compatible with almost 90% of the mobile and smart phones such as Apple, Samsung, Huawei, Blackberry, Oppo, Vivo, Nokia, Motorola, LG, and many other branded and non-branded mobile devices. The chamber is made up of very rugged materials to protect the devices placed inside of it.
The Smart Phone Charging Stations, Signage and Kiosks are suitable for public places, Gym & Fitness centers, Changing Rooms, Open Places, Public Places, Parks, Picnic Points, Shopping Malls, Airports, Libraries, Visiting Areas, Waiting Rooms, Restaurants, Coffee Shops, Food Courts, Collages, Universities, Mosques, Bus Stations, Metro Stations, offices, public offices, customer care centers, HR Departments, Food Courts and anywhere else where people are expected to stay for some time. The Mobile Charging Kiosks and Stations can also be customized and branded as per the requirements. The instructions can be printed on each side of the cabinet come in two languages, English and Arabic and can also be customized for more languages if needed.
Please contact us for quote or more information via our Contact Us Page or you can directly call us at +971 (0)6 524 8146.