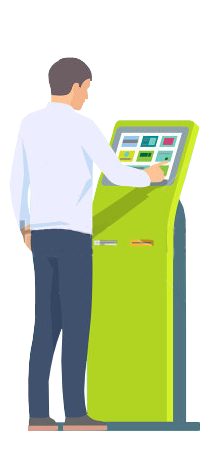 Self Service HRMS Kiosk
Human Resource Department of an organization is responsible to manage the activities relating to employees such as recruiting and hiring, orientation and training, employee benefits and activities to facilitate the employees to inhabit in the society and avail benefits such as residency, accommodation, licensing from government authorities and so on.

Self service HRMS kiosk or Interactive HRMS Kiosk is a machine to help HR Departments and the Employees of organization to avail the facilities provided by HR department in a self service manner. Be it leave applications or letter issuance or overtime wage calculation, A self service HRMS Kiosk can serve the purpose of the employee without taking an appointment in HR department or waiting in a queue of emails to be served.

The users of the self service HRMS kiosk can be authenticated with a variety of mechanism which may include the following:
Organization issued Identity Cards (Magnetic Swipe / RFID / Contact Chip)
Thumb /Finger Impression Scan
IRIS Scan Verification
Emirates ID Swipe
Self service HRMS kiosk can serve the employees with the following benefits; Once logged in user can check profiles on the dashboard of the system to find out personal details and apply for the services that selectively offered by HR department in the Kiosk Machine of HRMS.
Services of HRMS Self Service Kiosk

Salary Certificates
Proof of withdrawing salary or benefits details are most of the time required by the authorities in order to issue family residency, mortgage or to avail other benefits in the society. Salary certificates can be withdrawn from the self service kiosk by a single click of a button. An A4 printer can printer a pre-defined salary certificate with real time data from the HRMS using web services API.

Apply Leave
Employees can also apply for leaves or submit leave certificated using self service HR kiosk. HR department can have instant email / HRMS updates of the requests using web services API.

Ticket/Travel Requests
Ticketing and travelling (official / personal) requests can also be submitted through such interactive kiosk.



Attendance
Employees can also check their attendance and timing records.



Overtime Calculator
The self service Kiosk is equipped with overtime calculator to calculate the overtime and benefits associated. Once calculated, the request of associated benefits can be submitted to HR department.

Pay slips
Monthly pay slips can also be integrated in the kiosk interface for the ease of users to find the details of their salaries receivables.

Loans / Other benefits
Any specialized services provided by the HR department and available in HRMS can also be integrated in the self service HR kiosk using web services API that can be synced in real time with the HR system.
Mobile Application of Self Service Kiosk

A mobile version of the self service HR kiosk is also an additional option that can be provided to employees to download the secure apps in the mobile phones and perform the similar activities as available in self service HRMS kiosk. The only difference is that the self service HR kiosk can provide instant print out of the requests while mobile application can receive such responses on the screen or official email ID.


Features of the HRMS Kiosk
| | |
| --- | --- |
| Screen Size | 17 / 19 inches |
| Touch Panel | Capacitive Touch |
| Printing | Thermal / A4 / A5 |
| Scanner | A4 / Passport Scanner / MRZ Reader |
| Barcode | 2D / QR / Screen Read |
| Cards | Magnetic / Contact Chip / Emirates ID |
| Authentication | Thumb / Fingers / Palm / IRIS / Facial |
| Security | Lock / Floor Drill |