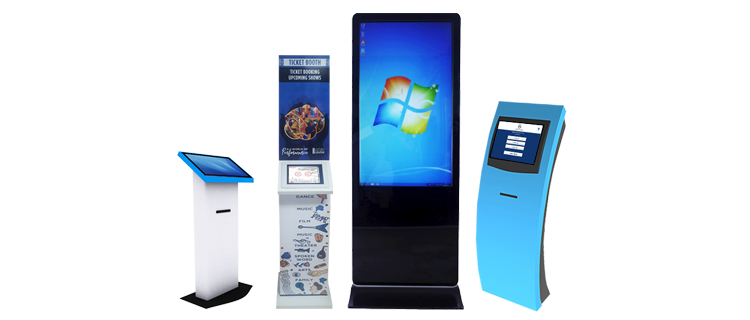 Interactive Kiosk Machines
Interactive Kiosk Machines help you to collect vital customer feedback or present information by initiating user action. RSI Geeks provides Kiosk Machines of different shapes and size to suit your specific needs

Touchscreen
The most important and outstanding feature of a kiosk machine is its touch screen. A touch screen allows users to navigate through the various options available on the kiosk machine without the help of a mouse using finger touch instead.

Thermal Printer
ur kiosk machines can be integrated with any Queue Management Systems. The thermal printer fitted in our kiosks makes it a ticket dispensing machine. Be it a bank, hospital, government department, fast food outlet, or any setup that serves incoming customers can use our ticket dispensing kiosk machinces for their system.

Integrated Keyboard and Mouse (Optional)
In situations where kiosk machines are required to take in data from the user, a built-in keyboard and mouse is provided with the kiosk. This allwos users to input details as required by the application running on the kiosk machine making them able to use the kiosk as they dela with a normal desktop PC.

Network/Internet Connection
All our kiosk machines have the ability to be connected to any existing network. This helps the kiosk or multiple kiosk machines to be centrally connected to a server to allow application sharing or database connectivity. The kiosk machine can also be allowed internet access to facilitate customers or visitors in waiting areas. Optionally, our kiosk machines can be connected to wireless internet as well.

Card Reader
In situations where users have to be identified before providing them with details or services, RSI Geeks provides kiosk machines with card reading facility.

Branding
Apart from the above features, clients have the option to personalize their kiosk for branding purpose. A client can get his kiosk painted with his corporate color, get his logo placed along with taglines of his choice.