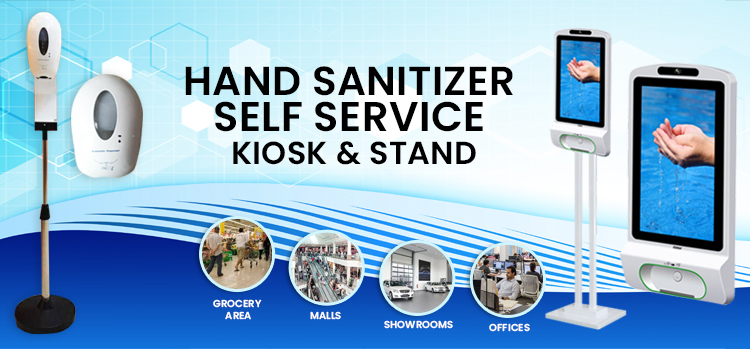 Automatic Hand Sanitizer Dispenser - Self Service Kiosk
Help Maintaining Social Distancing by Implementing Latest Smart Technology Solutions
The novelty of the Corona Virus or the COVID-19 virus is that it spreads in the ways we have never seen before. Either it is a metal surface, table, or any other surface the virus have tendency to stick on it for many hours. This is the reason each grocery store, barber shop, retail stores, medical stores, hospitals and any other public place which is allowing people to visit there are the most vulnerable places. Although, all of them are keeping hand sanitizers on their entrances and inside the vicinity as well. People are going there and they are touching the same bottle each time they sanitize their hands, which could be a potential risk too. Therefore our engineers have come up with an innovative solution to replace those bottles with an Automatic Hand Sanitizer Dispenser, a Self Service Kiosks. The kiosk is specifically designed to aid the social distancing and let people sanitize their hands without even touching the apparatus.
The Automatic Hand Sanitizer Dispenser Self Service Kiosk is not just a dispensing unit but it also has a medium size screen which will keep displaying the precautions and other public service messages to encourage people to sanitize their hand more often. The messages can be displayed in multiple languages and in multiple multimedia formats. The screen can also be used for advertisements purposes and it serves as a full fledge signage as well. Which makes this product more user friendly and useful.
As everyone is trying to maintain social distancing such signage could help people and organizations to spread awareness for the social distancing and also aiding them by allowing them to get the sanitizer solution without even touching anything.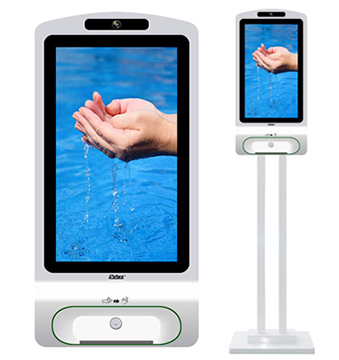 Features:
Sensor for hand for auto dispense - No push or touch/tap required
Color Light (Blue / Green / Red) signal to show Sanitizer(liquid) level
With hand sense light will turn green from blue
Metal housing
Screen with tempered glass
21.5 inch model with 5L liquid volume
15.6 inch model with 2L liquid volume
Optional items:
Can support battery power (optional)
Software to check Sanitizer volume remotely (optional)
Future Upgrades:
Temperature camera to be integrated
The Automatic Hand Sanitizer Dispenser Self Service Kiosk can be used as a standalone unit with a software to control the screen and also to monitor the level of the sanitizer within it. The kiosk can also work in a network with other Automatic Hand Sanitizer Dispenser Self Service Kiosk. The multiple kiosk unit configurations can be achieved via network as the kiosk has a built-in WiFi and 3G/4G support and all of the Kiosks can be controlled from a single admin control panel via online. Which also enables you to display different content on different kiosks simultaneously.
At RSI Concepts we always consider ourselves to be obliged with the community service and take it as our moral duty to innovate technologies and products that help our customers individually and the whole community in totality. The only way to control this Corona Virus or COVID-19 crises is to work together as a community and follow the precautions rigorously. Together we will defeat this virus.
Touch-less Hand Sanitizer Dispenser, Wall Mounted and Floor Stand
This model came with an open filling interface with the integrated infra-red sensing technology to sense the user's hands. The over all control circuitry is based on high-tech chip-sets, specifically built to endure 24 hour operations. The mixing mechanism is designed to optimize the use of the sanitizer and let one refill lasts longer comparing to other ordinary dispensers.
Features:
High-tech infrared proximity sensors to sense the human hands
Completely contact-less dispensing mechanism to avoid any contact with the equipment which help reducing the spread of contagious deceases such as the COVID-19 or Corona Virus
The sanitizer output can be easily adjusted manually through the independent buttons
Wall-mounted and Floor mounted models are available
Hand Sanitizer Wall Mounted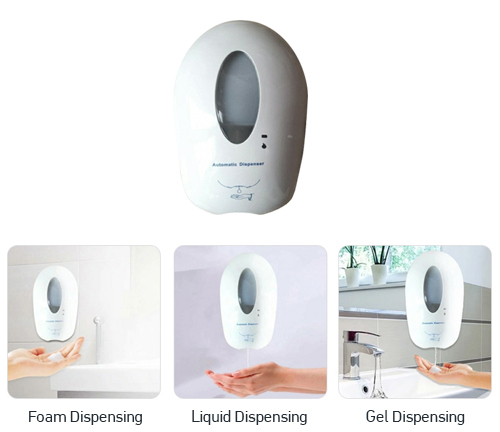 Specification
| | |
| --- | --- |
| Model Number | RSI-D5001 |
| Foam Type | Soap Foam |
| Sanitizer | Hand Sanitizer Liquid (Gel)/Alcohol Gel |
| Sterilization Type | Induction Sterilization |
| Function | Fully Automatic |
| Function Control | Contact-less/Touch-less |
| Certification | CE |
| Power Type | Battery, 5V DC Adaptor |
| Body Type | Modern Compact |
| Body Material | Plastic ABS |
| Installation | Wall Mounted & Floor Mounted Stand |
| Liquid Capacity | 1000ml |
| Dimensions | 25*17*12cm |
| Weight | 0.85kg |

Hand Sanitizer Floor Stand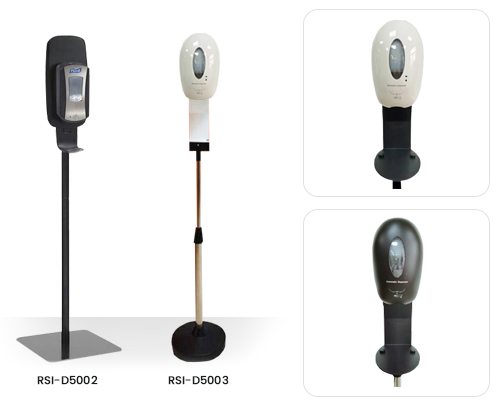 Specification
| | |
| --- | --- |
| Models Number | RSI-D5002-RSI-D5003 |
| Width | 20cm |
| Height | 120-175cm |
| Base Width | 35cm |
| Weight | 9.3Kg |
| Adjustable | Yes |
| Stand Color | Silver/Black |
| Hand Sanitizer Bracket Color | White & Black |
| Color Type | Powder Coated |
| Base Type | Round |

Stay safe, stay healthy, and follow the instructions for the social distancing.
To learn more about this product or our other Self Service Interactive Kiosk solutions, please Contact Us