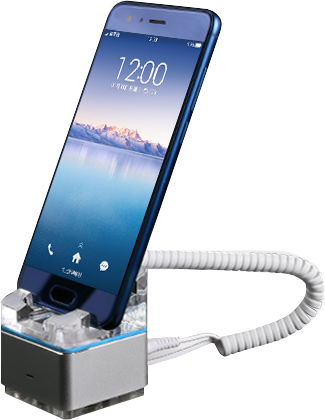 Secure Mobile Phone Display Stand
What is a secure mobile phone stand?
A secure mobile phone display stand is also known as anti theft mobile phone display stand which is capable of alarming a sound if the phone is disconnected from the charging cable. Such mobile phone stands are installed on the table or counter for the customers to view and experience the newly launched phones for hand-in experience.

Mobile phones are an essential store product for the hypermarkets and mobile stores because of their need in the mass. Mobile phones are fast moving items with a variety of models having shapes, sizes and features. The mobile phone display area in the stores are huge and cannot always be monitored by human hence a secure mobile phone stand is required to be installed in the such stores.
RSI-Ms500
The RSI-Ms500 security alaram device is suitable for secured and anti-theft display merchandise of mobile devices such mobile phones, tablets and surface. It is easy to install, idea for space-saving with flexible spiral recoil sensor cable.

Product Information:
RSI-Ms500 as new arrival display alarm stand to charge & secure a wide range of consumer electronics, widely used on exhibit or open display products. Mechanical touch switch acted as method to enter detection state. it creates a tidy and pleasant display for electronics.
Features: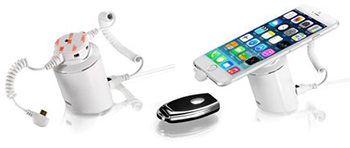 1. Fashion design, Elegant & innovative, enjoy of high-tech
2. Standalone display security, Infrared decoding.
3. Easy installation, Portable display for space-saving.
4. Power up the mobilephones.
5. Flexible Spiral recoil sensor cable.
6. Affordable & High performance.
7. Enhances shopper interaction with products.
8. Enjoy of touching mobile & smartphone.
Product Parameters: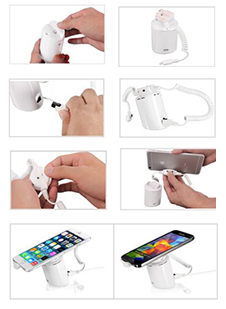 1. Function: with charging and alarm
2. Applicable to: power up mobile/smart phone.
3. Battery: with recharge function
4. Built-in 3.7V, 480ma lithium battery.
5. Input Voltage: 5V/2A
6. Charging time: 3hours will be charging full for security standalone device.
7. Standby time: 6 months
8. Alarm Volume: 105 max DB
9. Decoding way: Infrared unlock alarm.
10. Unlock Alarm Distance: within 1 Meter.
11. Support: USB Type C / Micro-B, Apple Lightning
12. Diameter: 48mm
13. Height: 82mm

RSI-Ms999
The RSI-Ms999 security alaram device with touch sensor for secured and high anti-theft to protect the display merchandise.it with buil-in lithium battery that's can be good protect & charging for mobile phone, and good experience for customers.

Product Parameters: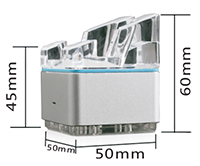 Item No: RSI-Ms999
Name: Anti-theft alarm stand
N.W: 226g/pc
Alaram Voltage: 180days
Input Voltage: 5.5V/2A
Output Voltage: 110-240V (50-60Hz)
Decoding ways: Infrared unlock>
Functions & Features: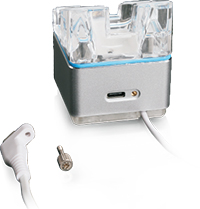 The Original RJ Connector change to type-C interface, it will be more convenience and stability.


Alaram Functions:
1. Touch sensor release alarming.
2. Cutting cable release alarming.
3. Remove bottom release alarming.
4. Pull out the cable release alarming.
Product Accessories: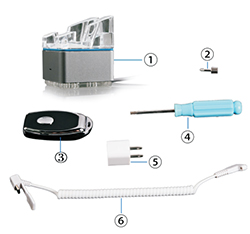 1. Anti-theft alarm device.
2. Screw
3. Remote Controller
4. Screwdriver
5. Instruction manual 1pc.
6. Security charging cable.