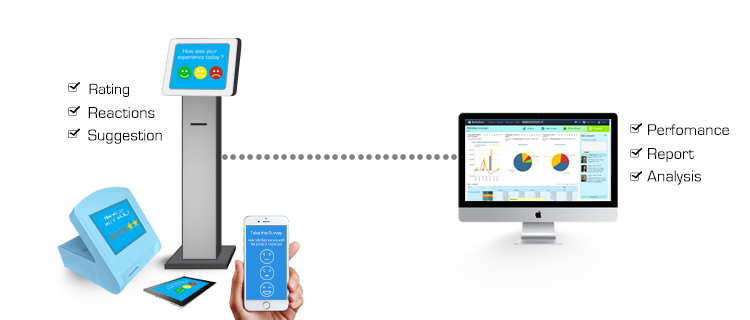 RSI Survey System
Our survey system is a software application which can be deployed onsite and online as a mobile application or sent as bulk email. RSI Survey System is a manageable system that has the capability to create any number of surveys from a centralized device. The survey can have multiple questions with different set of answering options. There can be multiple surveys and can be deployed to any number of locations or websites simultaneously.

The system is completely customizable as per the customer requirements and has the capability to be integrated with any business process, customer relation and marketing systems to generate useful and beneficial reports for the managers and decision makers.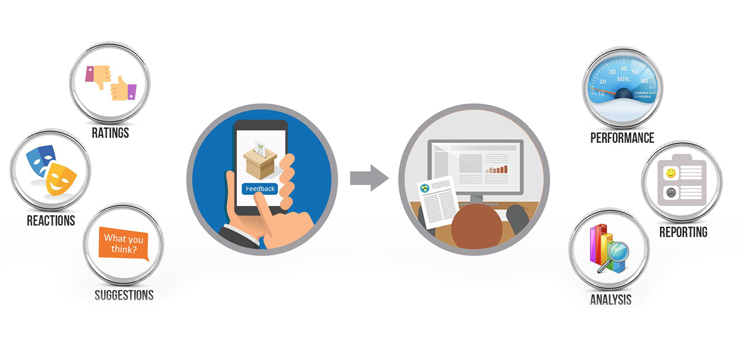 On-Site Survey System
Kiosk Survey
The survey system is installed on a Kiosk Machine and the visitors can complete a short survey while standing.
Teller / Agent Survey
They survey system is installed in a touch screen kept on a serving desk of a teller at a bank or customer service agent. Customer can complete the survey while he/she is being served.
Online Survey
Integrated in the website
Survey System designed and developed by RSI Geeks is completely customizable and can be given any look and feel as per customer website. It has the capability to be full integrated with any website framework or custom code.
Mobile Survey System
RSI Geeks Survey System has a mobile version as well that can be used in mobile devices. The survey can be available on IOS and Android app stores.
Hosted with third Party
Due to network restriction policies of the enterprise the RSI Geeks survey system can also be hosted with 3rd part web servers but the reports can still be made available to managers and decision makers.
Email Survey
Survey via Email
The Survey System designed by RSI Geeks has the capability to be sent to email addresses automatically from the email database of the enterprise. The survey system can be integrated with the contact database of the enterprise and can automatically be sent on a pre-defined time. The reports can be sent back via email or can be analyzed by a central administration software for detailed and useful reporting that can help in critical decision making.