Reduce Customer/Guest Wait Time
Eliminate Long Queues, Enable Guests to Check-in immediately as they arrive
Improve Customer Experience
Integrate with Customer Data and Offer Personalized Customer/Guest Experience
Generate More Revenue
Use the Interactive Kiosk for Marketing and Advertisement Purposes
Improve Employee Efficiency
The self-service Hotel Check-in Kiosk facilitates Check-in and Reduce Employee Workload
Collect Guest Feedback and Stats
Self-service Hotel Check-in Kiosk is a Great Tool to Collect Crucial Business Intelligence Data
Quick Check-In and Excellent Customer Experience is the Top Priority of Any Hotel or Hospitality Business
Our Hotel Management & Property Management Tools are designed to help hotels and hospitality sector to achieve enable them to follow modern trends and standards to meet customer's/guest's expectations. It is crucial for a hotel to gain trust of the guests and to have a satisfactory customer experience. The self-service hotel check-in system provide an alternate to the front-desk and eliminate the need of waiting in long check-in queues. The self-service hotel check-in kiosks is a great tool for marketing and advertisements and it help generating more revenue. The payment module integration with the kiosk also allow the guests to upgrade their plans or to avail other services through the kiosk.
Self-Service Check-In

Online Payment

Simple GUI

Excellent Experience

Cost-Efficient

Easy Integration

Good Impression

Business Intelligence

Make Your First Impression Lasting and Retain Your Customers/Guests
The first impression lasts longer than we mostly think. The first impression is also crucial for the relationship, the customers/guests don't like to spend time in waiting lines or at the reception. When a customer/guest arrives at the hotel after a long journey, they immediately want to go to their rooms. Any wait at the reception, either in queues or filling in long manual forms, or whatsoever could spoil their mood and ruin their experience. A self-service hotel check-in kiosk will not only save a lot of time but it will also provide them a better experience by simple UI and payment facility. This reduce the workload of the reception and employee and let the hotel management to allocate resources more efficiently.
Hotel Check-in Self Service Kiosk Hardware Specs
Wide Range of Interactive Multi-Touch Enabled Touch Screens
Barcode/QR Code Reader
Integration with Room Key Lockers
Online Secure Payment
Bank Card Terminal Integration
Cash Acceptor (Optional)
Passport Scanner
Thermal Printer
Floor Stands, Table Top, Wall Mount Configuration
Indoor and Outdoor Kiosks/Customer Terminals
Hotel Check-in Self Service Kiosk Software Specs
Simple and Customer Friendly User Interface (UI)
Multi-Touch Inputs with On-Screen Keyboard
Multi-lingual User Interface
Easy Customer Identification with Booking Number
Verification via Various Customizable Methods
Integration with Hotel Management System, PMS, CRM, CLM, etc.
Secure Online Payment Integration
Bank Card Terminal/POS and Cash Payment
Facility to Change, Upgrade or Modify Customer Booking Plans
Facility to Push Personalized Offers and Adverts
Remote Management and Centralized Information Center
Compatibility for Online Hosting, Cloud and Local/In-Premises Hosting
Customer Feedback Collection
Business Intelligence Data Collection
Statistical and Analytical Reporting, KPIs and Customized Reports
Key Features of Integrated Self-Service Hotel Check-in System
Customized Guest Self-Service Portal
Allows highly personalized guest UI with options to change/upgrade plans and add more items/services in the existing plan.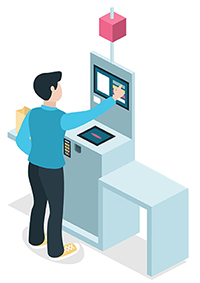 Direct Booking Facility via Check-in Kiosk
The direct booking and payment facility improves revenue and increase sales. It also provide quicker service delivery and excellent guest experience.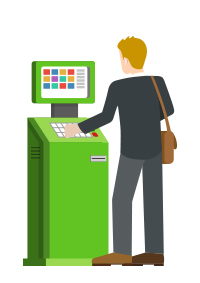 Integration with PMS and/or ERP
It enables real-time inventory update and provide latest prices. The management can also control the inventory and price via admin panel.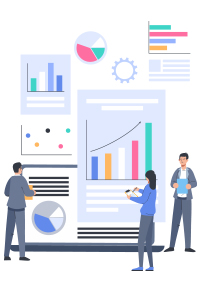 Centralized Control and Management
The integration with central information center allows the head office to remotely manage each and every hotel self-service check-in kiosk.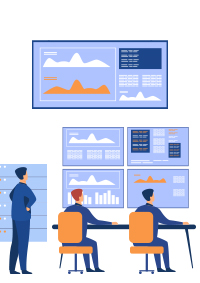 Integration with CRM & Feedback System
Customer Relationship Management tool integration enable the hotel management to enhance guest experience and collect feedback.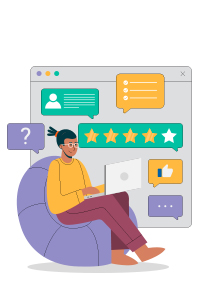 Third-Party Integration via Web Services
Secure web services and APIs are used to integrate two systems this allow better management and enable innovative features and services.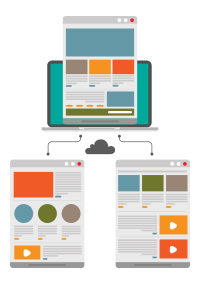 In-built Fully Contactless Self-Service Check-In Mobile Apps Module
These days the contactless and completely digitalized customer interaction are gaining popularity, customers are loving it and businesses are also embracing it everywhere. The contactless self-service check-in service can be provided with dedicated mobile apps. Here is how it works:
The customers/guests can conveniently check-in from the self-service contactless check-in mobile apps integrated with self-service check-in kiosk
The customer identification is fully automatic for the self-service contactless check-in mobile apps
The self-service contactless check-in mobile app enables the smartphone to act as a room key
The customers can check-out from their self-service contactless check-in mobile app
The hotel can also collect customer feedback from the self-service contactless check-in mobile apps
The hotel can also provide a personalized communication channel via self-service contactless check-in mobile apps, the customer can asks for all regular services such as room service, request for cab, etc.
The hotels can even provide customer service, complaint and service upgrade facilities
The self-service contactless check-in mobile apps are very good to push personalized promotional content and adverts
Be Ready for the Expo 2020 and Beyond
The Expo 2020 will attract around 25 million guests, and that is not all, the Dubai and other emirates of the UAE are most likely to remain the top tourist attractions always. The hotels and hospitality sector must have to be prepared to make sure their customers/guests have a quickest and smooth check-in and check-out experience. The interactive self-service kiosks are a great way to enable the customers/guests to check-in and check-out without any help from the staff. Our self-service hotel check-in system also provide functionalities to enable a complete contactless interaction and customer experience. The self-service hotel check-in kiosk could be a great source of revenue and business intelligence.